LED obstruction lighting and custom control systems for numerous industries

Obstruction Light Monitoring
reliable 24/7/365 monitoring of Obstruction Lighting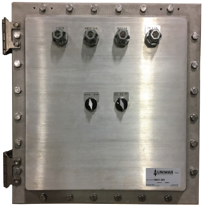 Unimar's world class panel shop is certified for UL, ATEX, GOST and many other international standards, providing standard and hazardous duty applications.
FAA/ICAO/FCC
Federal Lighting Regulations
Any structure that exceeds 200 feet above ground level generally needs to be marked (lighted) according to FAA/ICAO Regulations. Whether your structure is a tower or a solid structure such as a chimney or building there are many factors that can affect obstruction marking requirements.
Federal Lighting Requirements
INSTALLATION
Certified Lighting System
Unimar offers technical support and in depth training for all of our products. With a dedicated engineering and design staff, to an after-hours tech support phone number, we can support you with all your ongoing lighting needs.
More about Industrial Lighting Installation
APPLICATION SUPPORT
Custom FAA Obstruction Lighting Design
The Unimar team has well over 90 years of combined FAA lighting and design experience to help solve your lighting challenges.
More about FAA Obstruction Light Design
Unimar: Your LED Obstruction Lighting Provider
There is one way to be sure that your FAA obstruction lighting, tower lighting and control system meets your exact needs. Unimar experts work directly with you from concept to finished product and beyond to design and produce a custom solution. No other company offers the knowledge and hands-on help to get your job done right. And we back it up with a solid five-year warranty on standard products, and two-year warranty on custom assemblies.
What Our Clients Say
Unimar's products and support are first rate.

Major Tower Owner/Operator
The site is running perfectly and we have not had any issues….

Public Water Authority